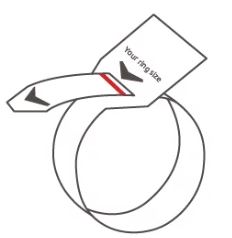 Printable Ring Sizer - Instant Digital Download - Find Your Ringsize
Love our rings but don't know your ring size?
Easy Peasy!

Determine your ring size - without leaving your house - and shop our rings today!

After purchasing you can download the PDF and print it.

-Digital download include 1 PDF File.
-NO physical items will be mailed instructions:

𝗣𝗥𝗜𝗡𝗧 𝗜𝗡𝗦𝗧𝗥𝗨𝗖𝗧𝗜𝗢𝗡𝗦:
1. Print this page.
2. Verify the page printed correctly by measuring the sizer with a ruler (this is printed on the .pdf under the sizer).
3. If it does not measure 3-7/8" adjust your printing percentage until the ruler measures accurately.

𝗣𝗥𝗜𝗡𝗧𝗜𝗡𝗚 𝗧𝗜𝗣𝗦:
Please know, printers, printer settings, print dialog box options and print dialog box language/terms used may vary.
Start by printing the file at 100%/Actual (not scaled).
𝙔𝙤𝙪 𝙢𝙖𝙮 𝙣𝙚𝙚𝙙 𝙩𝙤 𝙖𝙙𝙟𝙪𝙨𝙩 𝙩𝙝𝙚 𝙥𝙚𝙧𝙘𝙚𝙣𝙩𝙖𝙜𝙚 𝙪𝙣𝙩𝙞𝙡 𝙩𝙝𝙚 𝙧𝙚𝙙 𝙡𝙞𝙣𝙚 𝙞𝙨 3-7/8".

𝗨𝗦𝗔𝗚𝗘 𝗧𝗜𝗣𝗦:
Please note, if your ring sizer rips during usage, you may need to switch to a higher grade paper or simply print another one and try again.