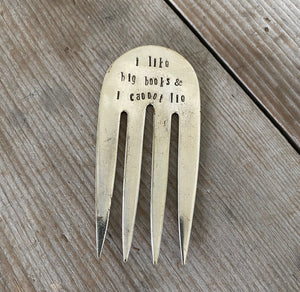 SALE - Fork Bookmark - I LIKE BIG BOOKS AND I CANNOT LIE - #5025
Sale Status: This item is on sale because apparently I need better glasses when choosing the stamps - the "N and the "o" are too close together! This quirky pieces is yours for almost 60% off.
This bookmark is made from an upcycled vintage silverplate serving/meat fork and is hand stamped I LIKE BIG BOOKS AND A CAOOOT LIE
Manufacturer: Unknown
Pattern Date: Unknown

For all of our designs we choose wonderful vintage/antique silverplate cutlery. Once chosen, the pieces are modified and beautified by HAND; they are cut, drilled, filed and polished.

Size: ~3.5" long x ~1-5/8" wide. 
Condition: Please note, this is an antique item that was once used as a utensil. As a result there may be some wear to the silver-plate, fine scratched or marks from use. But some wear gives the piece patina and personality. We do our best to disclose any condition issues of note.