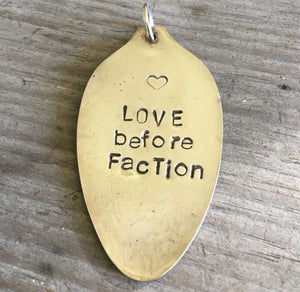 SALE - Stamped Spoon Pendant - LOVE BEFORE FACTION - #0586
Regular price $19.00 $7.00 Sale
Sale Status: This item is on sale because it is a phrase from a book/movie called Divergent and is not really popular any longer. But I am sure you are still a die hard fan, so this item will thrill you, especially at the deeply discounted price. 
This listing is for a hand stamped spoon pendant that you can use any way you like.....put it on a chain as a necklace, add it to your keyring or tie a ribbon to it and use it as a bookmark!
Manufacturer: Unknown
Pattern Date: Unknown

For all of our designs we choose wonderful vintage/antique silverplate cutlery. Once chosen, the pieces are modified and beautified by HAND; they are cut, drilled, filed and polished.

Size: ~2.5" long x ~1.25" wide. 
Condition: Please note, this is an antique item that was once used as a utensil. As a result there may be some wear to the silver-plate, fine scratched or marks from use. But some wear gives the piece patina and personality. We do our best to disclose any condition issues of note.