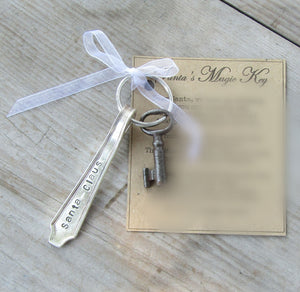 Santa's Magic Key - #3158
Regular price $18.00 Sale
Santa's Magic Key is a wonderful Christmas tradition to soothe the fears of children with no chimney and worry that Santa will not be able to visit them on Christmas. Poem begins, "Dear Santa, we have no chimney as you can plainly see, and I was terribly worried you would pass over me.....
Your magic key will come attached to our......errrr....... Santa's personal handmade, handstamped vintage spoon keyring. You will also receive a card with a poem stating the magic of the key. The key itself is a true antique as well, not a piece mass produced in China.

Manufacturer: Unknown
Pattern: Unknown
Year: Unknown

For all of our upcycled silverware jewelry and accessory designs we choose a wonderful piece of vintage/antique silverplate cutlery. Once chosen, the pieces are modified and beautified by HAND; they are cut, drilled, filed and polished.

Condition: Please note, this is an antique item that was once used as a utensil. As a result there may be some wear to the silver-plate, fine scratches or marks from use. But some wear gives the piece patina and personality. We will do our best to disclose any condition issues of note.