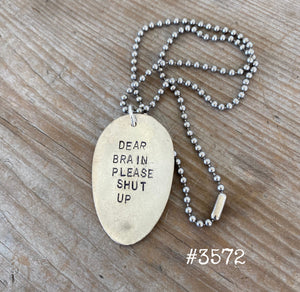 Stamped Spoon Necklace - DEAR BRAIN PLEASE SHUT UP - #3572
Regular price $19.00 Sale
If you are like me, your brain is always "ON". Sometimes you just wanna say "DEAR BRAIN PLEASE SHUT UP!" Right? This upcycled vintage spoon necklace is JUST for you. This spunky spoon necklace is hand stamped and hangs from vintage metal ball chain. Wear alone or group with a bunch of other necklaces for a real gypsy style look. This vintage silverplate spoon was cut, flattened and hand stamped with this saying. Pendant is on a vintage (spool from 1970s) silver metal ball chain.
For all of our designs we choose wonderful vintage/antique silverplate cutlery. Once chosen, the pieces are modified and beautified by HAND; they are cut, drilled, filed and polished, etc.. All of our creations are handmade - as such no two items are exactly alike. The items in the photos represents the general design.
Condition: Please note, this is an antique item that was once used as a utensil. As a result, there may be some wear to the silver-plate, fine scratches or marks from use. But some wear gives the piece patina and personality. We do our best to disclose any condition issues of note.