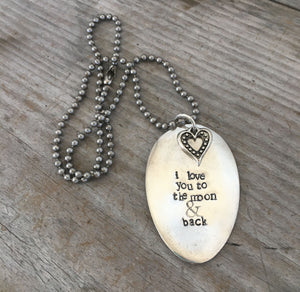 Stamped Spoon Necklace - I LOVE YOU TO THE MOON AND BACK
Regular price $20.00 Sale
I LOVE YOU TO THE MOON AND BACK. We've all heard this phrase and probably have said it as well! A sweet way of saying that you love that someone very VERY much!! This upcycled spoon necklace was hand stamped with this sweet saying in a font that looks like the text of a book. Necklace hangs from a 18" vintage ball chain and has a heart charm at the top. Wear this gypsy-style, stamped vintage spoon necklace alone or group with a bunch of other necklaces.It was then hand stamped with this message.
Dimensions: ~2-1/8" long x ~ 1-*3/8 wide. 18" Chain.
For all our designs we choose wonderful vintage/antique silverplate cutlery. Once chosen, the pieces are modified and beautified by HAND; they are cut, drilled, filed and polished.
Condition: Please note, this is an antique item that was once used as a utensil. As a result, there may be some wear to the silver-plate, fine scratches or marks from use. But some wear gives the piece patina and personality. We do our best to disclose any condition issues of note.