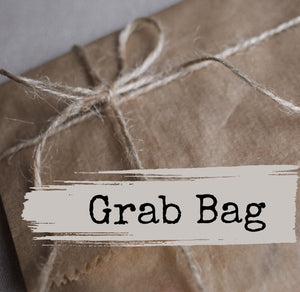 Grab Bag
Regular price $19.00 Sale
A unique way to get handmade silverware creations by Laughing Frog Studio at a ridiculously good price!
Your "bag will include of variety combination of three items which may include the following:
Gypsy 

Stamped Spoon Necklace
Spoon Cuff Bracelet
Spoon Handle Money Clip
Spoon Keychain
Knife Bell Necklace
Spoon Handle Pendant Necklace
Knife Vase Pin
Value $46-$66
Limited availability.
* Returns or exchanges are not offered on this item. .

For all of our designs we choose wonderful vintage/antique silverplate cutlery. Once chosen, the pieces are modified and beautified by HAND; they are cut, drilled, filed and polished.

Condition: Please note, these are upcycled used items. As a result, there may be some wear to the facade, fine scratches or marks from use. But some wear gives the pieces patina and personality. We do our best to disclose any condition issues of note.