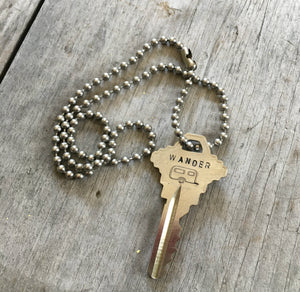 Stamped Key Necklace - WANDER - #4082
Regular price $15.00 Sale
This upcycled key has been hand stamped (not machine stamped) with the word "wander" along with a small vintage style camper/trailer like an airstream. Our stamped key necklaces are made from authentic keys (not die cast replicas), most of which are vintage. Stamped key hangs from a vintage ball chain from the 1970s. (I know this because the spools of this chain were in my parents garage since I was a child!)
Wear alone for a single statement or wear with other key necklaces or one of our upcycled silverware necklaces for a real earthy, free spirit look!
Dimensions: 2 1/16" x 1" x ~16" ball chain.
For all our stamped key necklaces we choose wonderful discarded and/or vintage keys. Once chosen, the pieces are HAND stamped and a chain is added.
Condition: Please note, this is and discarded and/or vintage item. As a result, there may be some wear, but some wear gives the piece patina and personality. We do our best to disclose any condition issues of note.